Si no te sintonizaste en el Campeonato de gimnasia de los EE. UU. el domingo por la noche, entonces te perdiste no solo una actuación de Simone Biles, sino también un momento feminista viral.
Afortunadamente, Twitter lo está celebrando y aquí te compartimos los detalles.
Jordan Chiles, de 17 años, llevaba un leotardo inspirado en la Wonder Woman mientras completaba su rotación de gimnasia.
La medallista de plata estadounidense de 2017 rindió homenaje al personaje de DC Comics con una pieza de color rojo, azul y amarillo deslumbrada con diamantes de imitación.
Para acompañar al atuendo, Chiles también realizó una rutina de música de Wonder Woman.
Te recomendamos:
Gal Gadot se transforma en la mujer maravilla para visitar un Hospital Infantil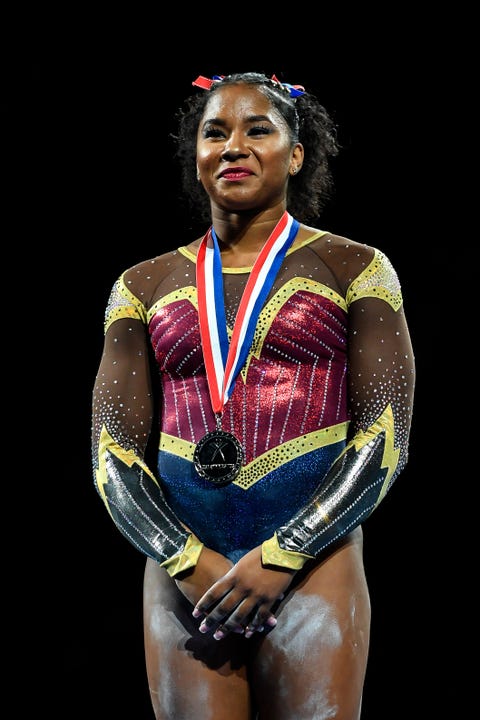 Wonder Woman leo for Jordan Chiles?!?! 😍😍😍 pic.twitter.com/GZ3fSCvSB5

— FloGymnastics (@FloGymnastics) August 19, 2018
Los fanáticos enloquecieron y compartieron comentarios como:
«Me encantan las libertades creativas que los atletas han estado tomando con sus leotardos últimamente. ¡Mirándote, @ChilesJordan !» .
Una persona incluso admitió que no sigue la gimnasia, pero se tomó la decisión de Chiles de escribir:
«Nunca he oído hablar de ella (porque no sigo la gimnasia) pero Jordan Chiles usó un leotardo con temática de Wonder Woman para un evento y vaya, ¿qué diablos es tan genial. La edad que vivimos en chicos. La edad en que vivimos «.
I have never heard of her (because I don't follow gymnastics) but Jordan Chiles wore a Wonder Woman themed leotard to an event and boy howdy is that freaking cool. The age we live in guys. The age we live in. pic.twitter.com/Ut9QCJ4r70

— #kamalakorp (@agentfitz777) August 20, 2018
Chiles no era la única gimnasta que se destacaba por su leotardo.
Simone Biles hizo una poderosa declaración en una sola pieza de color verde azulado, el color honra a las víctimas de abuso sexual, mientras se ganaba las medallas de oro para convertirse en la primera mujer en haber ganado cinco títulos de campeonatos de gimnasia de los Estados Unidos . (La propia Biles es una sobreviviente del escándalo de Larry Nassar.)
Echa un vistazo a lo que dice la gente sobre el look de Mujer Maravilla de Chiles, luego lee sobre la sorprendente victoria de Biles.
It's SO AMAZING! Our mouths also dropped open. This is like Kyla Ross in 2012 showing up to Trials in an American flag leo to declare her position on the team. LOVE! https://t.co/mKwFR0fESV

— GymCastic (@GymCastic) August 19, 2018
Vía: www.marieclaire.com